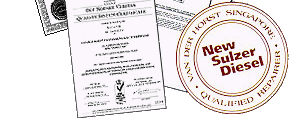 Van Der Horst Engineering Services Pte Ltd (VDHES) is the market leader in the marine, oilfield and general industry for hard chromium plating, specilised welding and CNC machining of marine engine components and heavy equipment.
VDHES is an ISO 9002 certified company and API licensee for the manufacturing of Spec 6A and 16A products. VDHES is an authorised repair facility for New Sulzer Diesel's marine engine components, Cameron, Hydril and Shaffer's BOPs, riser tensioner systems and other oilfield equipment. VDHES repair procedures for the marine components and hard chromium plating have the general approval of major classification societies such as Lloyds', DNV, BV, NKK and GL. VDHES is also an approved high pressure valves repair facility for Borsig of Germany and PBVS of Italy.
In summary, VDHES is one stop centre for the reconditioning needs of the marine, oilfield and industrial sectors.